What are Mind Obstacles?
The Strange is Beautiful calls mental illnesses "mind obstacles," because we believe the term "mental illnesses" is negative, and sounds like it is something permanent.
We view mind obstacles as a spectrum.
On one end of the spectrum, mind obstacles start out as the ever-shifting array of natural, difficult emotions and thinking we all have in a day such as sadness, anger, body image issues, loneliness or stress. Everyone needs healthy self-care tools to tend to these.
On the other end of the spectrum, mind obstacles are changes in thinking, emotions and behavior that cause difficulties in attending to daily tasks, interacting with people, and possibly suicidal thoughts or contemplations. These can include depression, panic attacks, bipolar, OCD, eating disorders, social anxiety, phobias, and more. Talk therapy, medication, and alternative self-help / self-care (what we blog about <3) are options for these.
How You Can Help Someone With a Mind Obstacle
Because of the commonness of mind obstacles, we felt it necessary to spread awareness so people can not be scared of those who are already scared, and so people living with mind obstacles can find relief in being open, rather than feeling the need to keep it a secret.
Learn how to identify a panic attack, eight ways to help someone during and after, and what not to do.
Become a Mental Health First Aider by taking a free 8-hour course (comes with an informative manual) to learn about the signs, symptoms and risk factors of mind obstacles, action plans on how to help someone, and how to talk to and assist someone who is considering suicide.
How to Talk to Someone About Their Mental Health
If you notice concerning behaviors that have changed in a friend, family member, or loved one, here are steps to take to address it from the Mental Health First Aid training: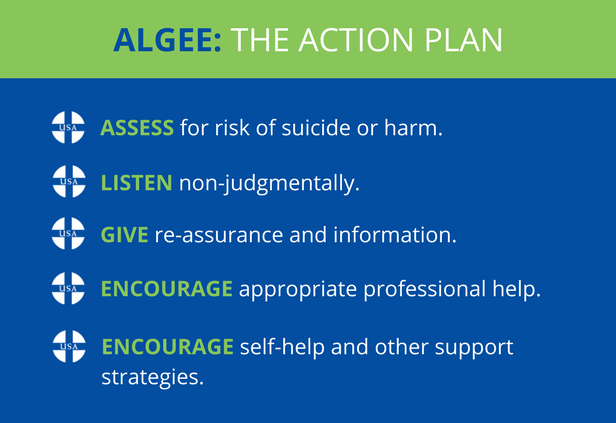 How to Talk to Someone Who Might Be Suicidal
According to the Mental Health First Aid training, it is important that if you believe someone is suicidal to ask them directly:

Are you having thoughts of suicide / are you thinking of killing yourself?
If yes, ask them the following questions:
1. Have you decided how you would kill yourself?
2. Have you decided when you would do it?
3. Have you taken any steps to secure the things you would need to carry out your plan?
When you talk to them, follow these guidelines:

– Appear confident, as this can be reassuring
– Tell them thoughts of suicide are common, and help is available for them.
– Let them know thoughts of suicide do not have to be acted on.
– Try to involve the person in the plan to take care of them, meaning, talk to them about professional help they already seek, coping mechanisms or self-help that helps them, and who their emergency contact or support system is.
911 and police involvement for those considering suicide
In emergencies of people considering suicide, it is recommended to call 911 and ask for their "Mobile Crisis Team" or other mental health trained team. Sometimes they are available, and sometimes they aren't. Please talk with the person who is suicidal before calling them, especially if they are a person of color or undocumented, because they might not feel comfortable with police or hospital involvement.
***Self-harm does NOT mean the person is suicidal. Sometimes it is a coping mechanism.
Empathy: What Does it Feel Like to Have Anxiety?
Watch what it feels like to be in the mind of someone with anxiety and OCD for three minutes.
Name That Mind Obstacle
There are many types of mind obstacles. Click to read more about each one listed below.
**This is for your information to help you recognize signs, symptoms and risk factors, not for you to use to diagnose yourself or others.
Generalized Anxiety Disorder
Social Anxiety Disorder
Panic Disorder
Specific Phobias
Obsessive Compulsive Disorder (OCD)
Posttraumatic Stress Disorder (PTSD)
Major Depressive Disorder
Persistent Depressive Disorder
Bipolar disorder
Eating disorders
Adult ADHD (attention deficit/hyperactive disorder)
BDD (body dysmorphic disorder)

Sometimes mind obstacles also bring along the following:

Irritable bowel syndrome (IBS)
Sleep disorders
Substance abuse
Chronic pain
Fibromyalgia
Overall Stress
---
More Info on Mind Obstacles
– Anxiety is the most common mind obstacle in the United States.
– Mind obstacles develop from a complex set of risk factors including genetics, brain chemistry, personality, and life events (bullying, domestic and sexual abuse, substance abuse).
Medication
– Health care for anxiety treatment costs the U.S. more than $42 billion per year, almost one third of the country's $148 billion budget for mental health.
– $22 billion of this is associated with repeated use of health care services. People with anxiety disorders seek relief from symptoms that mimic physical illnesses (i.e. shortness of breath, nausea, IBS, feelings of being faint, etc). We get our facts here.
Though TSIB recognizes the importance and is in gratitude of the option to take medication, we believe medication isn't the only option.
Based on the stats, medication is often over prescribed when talk therapy or alternative self-help could have been effective without it.
When medication is used, we believe alternative self-help should always be used in conjunction with it to ensure people learn how to take care of their whole body, not just the chemical or hormonal imbalance.
Therapy
Read our reviews of five therapy directories. Though intended to aid POC and LGBTQ+ to find a therapist, the first directory we reviewed called Psychology Today is for anyone to use.
How to Find a Therapist
1. If you have insurance, call your insurance and ask for a list of in-network providers, and what your benefits are.
Benefits you should ask about are what you will pay out of pocket at each visit, how long of a visit they cover (45 min or 60 min), and how many visits total they cover per year.
2. Sometimes it can be hard to search through your insurance's list of in-network providers. In this case, try a therapy directory, and make sure to select your insurance if that filter option is available. If that filter option on the directory site is not available, be sure to ask the therapist if they take your insurance as your first question.
3. If you are choosing an out-of-network therapist, ask your insurance if they offer superbill, a form you submit for reimbursement, and if so, how much do they cover and after what deductible (an amount you pay out of pocket first).
For example, some insurance's will offer superbill, but only after you've paid $1,000 out of pocket, and they only cover 50%.
4. If using an out-of-network therapist, ask if they offer sliding scale. Some therapists go as low as $25 per session. Many, however, stay around $90 for their lowest.
5.  Consider asking therapists you are considering working with the following questions:
A. Do you have experience treating people from my cultural background?
B. Do you have experience working with people with (things you'd like to work on with them).
C. How would you include aspects of my cultural identity, age, faith, gender identity or sexual orientation, in my care?
6. Consider researching different modalities of therapies to see which one connects with you.
How do I get the most out of therapy?
When in therapy, use this checklist for what to look for during therapy is here. It is directed to survivors of sexual trauma, but I believe it can apply to people with mind obstacles who are looking for culturally conscious and trauma-informed care as well.
Workplace Mental Health Rights
Below are links that list your rights.
Below are links of laws that protect mental health disabilities:
More Resources
For more help, visit Mental Health First Aid's list of mental health resources.
More Resources

FreeFrom, founded by a queer POC womxn, offers economic justice for survivors of domestic violence by employing them, and offering many other services.