October is Domestic Violence Awareness Month (#DVAM). We just premiered Enrique Jesus Hernandez's latest music video "theCHILD" for Sadcore Sundays and now, here is Part 1 of an interview about his EP about experiencing domestic abuse.
Read the whole interview in our free zine here and see Part 3 of his interview on October 23 on our blog.
---
Part 2:
How did you cope both during and after the experience that you had in your household and everything?
I coped by…how did I cope? The first answer I want to give is to say that I dove into fantasy, but honestly I coped with music… my mom influenced my music style so much. She's a 90s rocker chick and she gave me Pearl Jam, Garbage, Stone Temple Pilots; they became my favorite bands, Nirvana. And I discovered Radiohead and Manson and my routine at night… I didn't really play video games and I thought, well, I'm going to listen to this record. So I spent nights listening to records, listening to the different sounds. And I was really intrigued by the story and the concepts that these concept albums were providing me and I coped by relating to the artists that I listened to. And I think that's why Hunger City's… I wanted it to be accessible and to sound accessible for people to be intrigued and to want to hear it because I think the message is important, but it's also, for me, in my opinion, people might rock out to it in public places, but the intention was to provide my seven year old self and the other people in situations that I have gone through with a piece of music that would be with them at the end of the night or in their quiet moment that would really speak intimately with them to let them know that everything's going to be fine and you have the power within yourself. So it's more of an introvert project than probably other projects that I'll do.
I noticed that the spelling of the songs on the EP were very specific where it has the lower case 'the' and then the all capitals of the prominent word in the title, so I'm sure that was on purpose. What's the story behind that?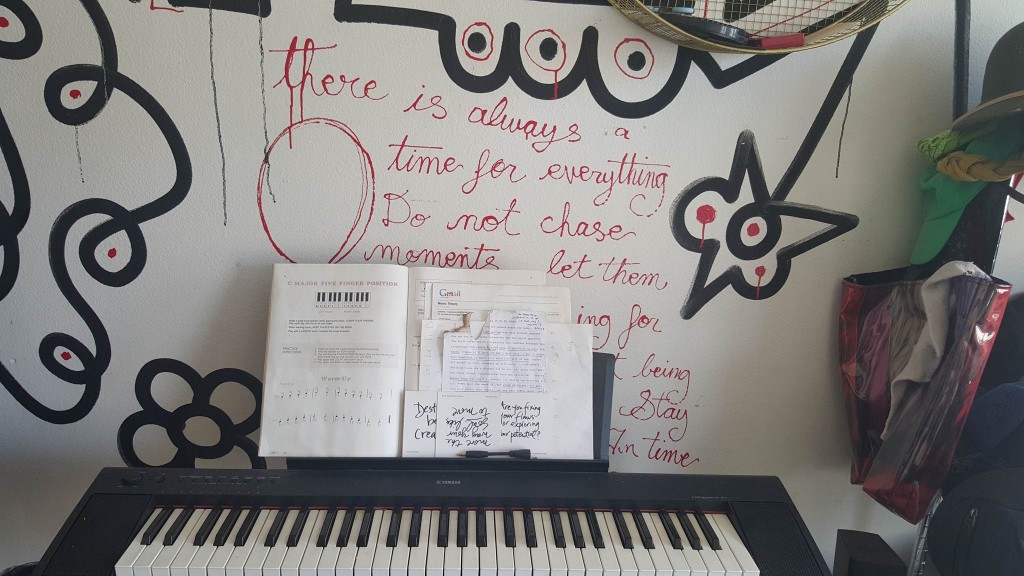 Yeah, well the titling… I wanted it to be pretty straight forward or pretty simple and I think the lower case aspect of it 'the' isn't really too important to me and for each track, sort of, the protagonist, the thing that I was talking about, I wanted to be the focus.
And so for the first track "theBASE", the first line I say is "There's a base in my brain." and that's where I go to cope, I guess. That's where I'd go when the fighting happened. I'd go to this place in my brain where there was a level there where I was afraid, and I was still. And then the next line I say is, "I stand there stunned/my bones remain encased."…  And I feel like if I have that experience of going to a place in my mind… it could be I'm describing it as a location, but I think as a feeling it's trauma, it's being frozen, it's your heart sinking, it's your throat closing up. It's terror that you don't want to share because that might be a sign of vulnerability and things progress further. So the base element of it is what I wanted to put across is this moment of fear when the violence is happening.
And then "theSTORM" is sort of a track where I wanted to depict the chaos of what it was like to be in a household where you hear doors slamming constantly, footsteps. I'm trying to hide, but I don't know if my mom is safe. I don't know where the abuser is, and I don't know when this is going to end. You just cannot wait to fall asleep fast enough [and] for the morning to happen so you can have that awkward silence and not address what happened the night before, but at least you know that you made it.
And then "theCHILD"  is… the protagonist that experiences everything, and that's the child within us, that's a child that's an actual child and I think that's also, probably, the version of ourselves that has stopped growing emotionally because we've detached… through a means of survival.
And then "theWHERE" is sort of… "where" is the main question that spiraled out of my mind through all of this. Where do I fit in the world? Where do I go from here? What is the next step? Do I have to stay? It's the questioning of what to do in this moment when you know it's bad and you know something has to change, but you're not sure where to go.
And then "theWAY" is the solution. It's the movement beyond the base. You move forward and you get to the other side of whatever it is you're dealing with.
---
See Part 3 of his interview on October 23 on our blog.
Read the whole interview in our free zine here.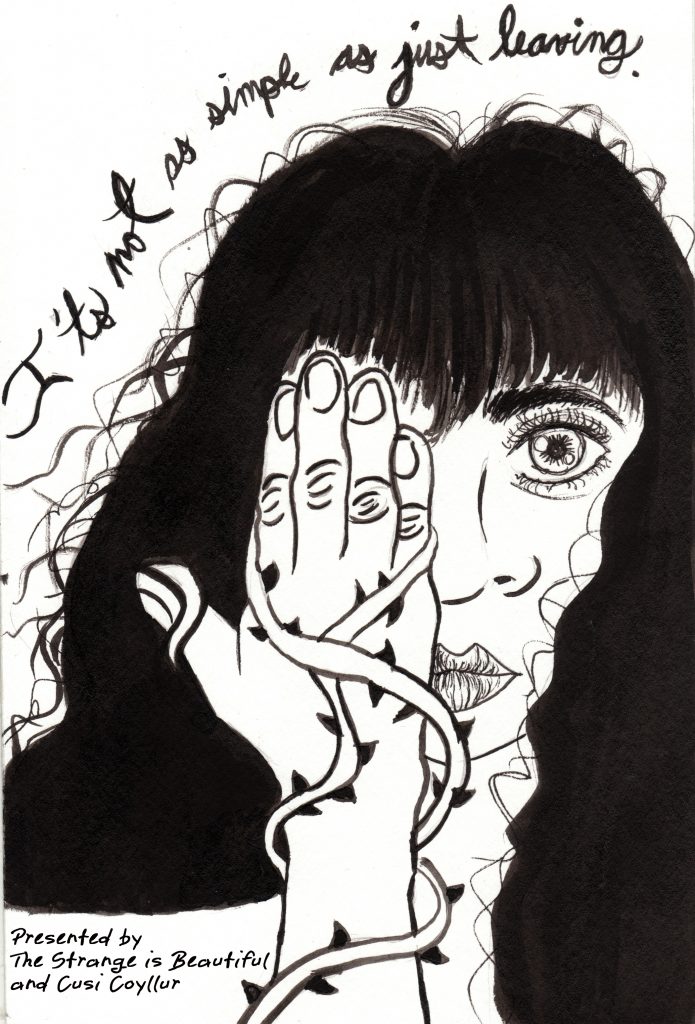 ---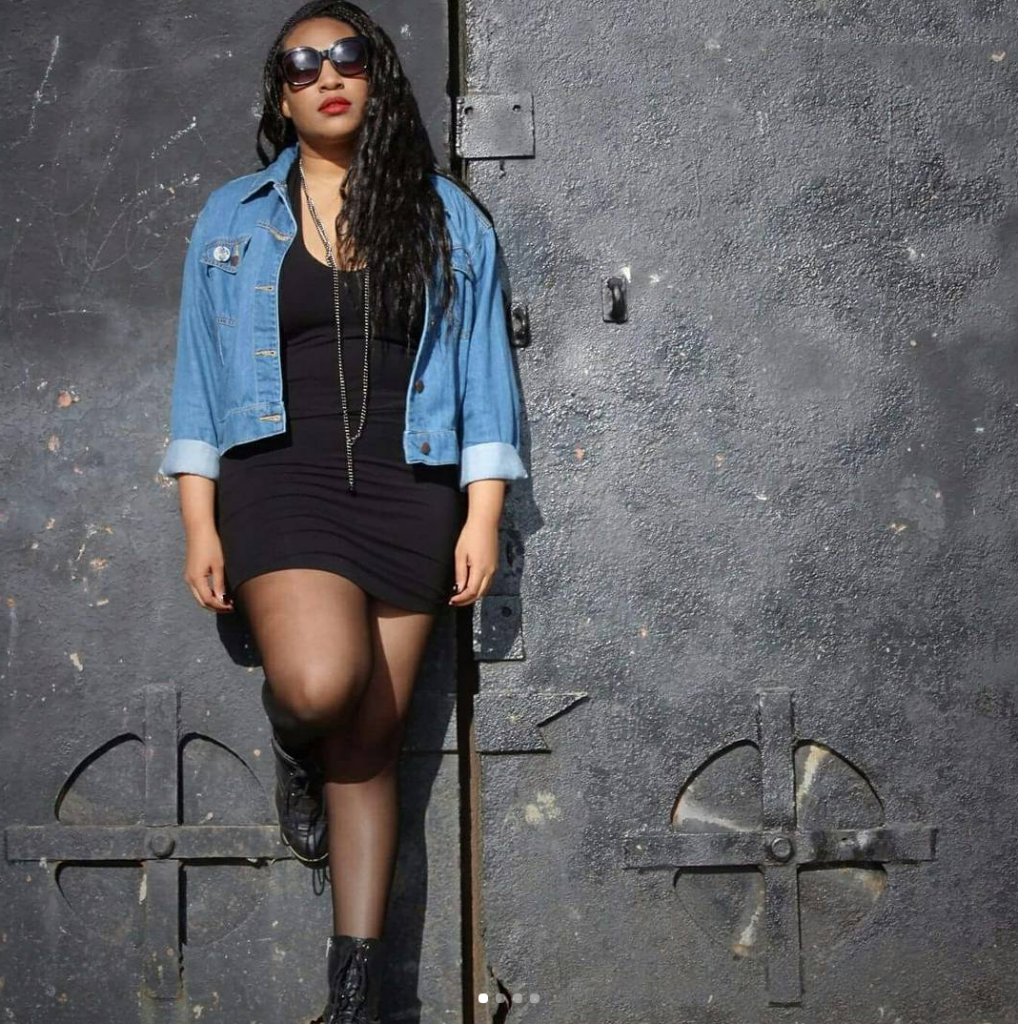 Georgia St. Jones is a California broke girl using music, art, and literature as a way to be universal and staff contributor for The Strange is Beautiful.
Follow her here: Instagram, SoundCloud.
See her latest posts here.