Sometimes it's those little changes that make life a little better….or make life not suck as much….(is the glass half empty or half full ?? *rolls eyes*)
---
 WHAT DOES BEING PRESENT MEAN, AND WHY CAN'T I BE WHEREVER I WANNA BE???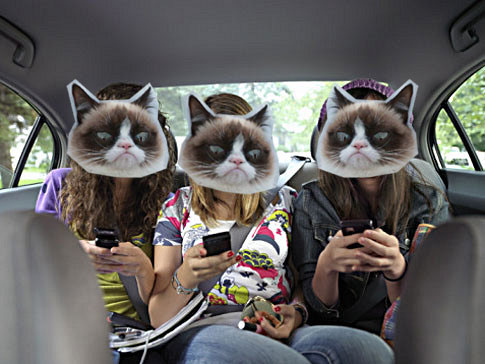 Being
present

is the idea of giving your full attention to the situation you're in instead of….
daydreaming,
doodling,
or most popular of today – being in "smartphone-landia" because it's totally cooler and more real than real life.
Being
present

means you will….
actually remember that lecture in class
you will be listening and communicating with your friends, family members, and significant others rather than fighting
enjoy life more.
When you first start practicing "being present," it will be HARD. Focusing is hard when we're so used to zoning or numbing out.
Adding in some personal me-time to relax and cleanse yourself will help you enjoy the times when you are a listener and responder versus the times when you are a speaker or center of attention.
---
My checklist for being
present

:

1. Be on time

a. wake up earlier
For me, there's a difference between listening to my body and saying "hey, I'm really sick today, I'd better sleep in and stay home," and just being lazy.
b. use time more wisely
c. set timers, one for 30 min before you have to leave, 15 min before, and 5 min before.

2. Complete attention/focus + not checking my phone when…

a. when friends are talking to me.
b. when my mom is talking to me (lolololol xo luv u mommy)
c. when I'm in class or right after class
d. when I'm driving

3. Set a day for cleansing + girl time

a. Cleaning my room, bathroom, work area, car, laundry, vacuum, dust
b. Massage if needed/ if I have $$$
c. Eat g00d food (for me, Peruvian or Thai <333)
d. Watch a movie
e. Read a book (I've been reading again recently and I'm in loveeeeee)
f. Paint nails
g. Cook
h. Make zines
i. With friends: jamming, traveling, photoshoots, or watching a show
---
 WHY SHOULD I BE FEARLESS WHEN I JUST WANT TO HIDE UNDER MY BED COVER AND STAY THERE…

Being
fearless

is the idea of stepping out of your comfort zone to complete a goal or dream, or to improve two-way communication, understanding, and responses in relationships, jobs, classes, etc.

Two-way communication/understanding/responses = Speaking to friends, them understanding you, and your ability to respond to what they said.
In general, being
fearless

means to confront a challenge, face to face, with the confidence of a Riot GRRRL and the grace of a ballerina.
---
My checklist for being
fearless

:

1. Ask questions

a. In general, and in class.

Literally always afraid of being shunned by teachers. (which has happened MANY times because many teachers think it's okay to be disrespectful to their students just because they play "teacher" and not "student" in the play called "school.")

b. And if I do get shunned, I will respectfully stand up for myself, but also be mindful of the battles I choose.

 

2. Talk to strangers/friends of friends

a. I've noticed that my voice either gets really small like a mouse, ORRR I stop breathing.

I've been practicing taking in a really, really, reallyyyyy big inhalation, exhale ujayi styley, and just walk right up to the person. I also make sure the first word that comes out of my mouth is in my NORMAL voice, and is happy/strong sounding.

b. Same tactic with friends of friends + focusing on their conversation and actually RESPONDING

(vs. fidgeting and focusing on the millions of anxiety ants crawling on me) This has been the hardest.

3. Do what I want to do without fear of rejection
(because I'm not that cool Echo Park hipster girl who plays at the Smell with her hundreds of "friends"  watching her…)


a. perform………….again………….yeah, I'm a musician. I forget sometimes.

b. finish…………recording…………..can you feel the dread……….

c. keep writing, practicing, recording rough drafts (this is okay, I'm okay with this.)

d. new music project – YOUTUBE PROJECT WOOOOO (fuhhhhh……..feelin the dread again……????)

e. this might take a little longer…..no i'll do it now…. .. . . . . hi mom…

4. Say what is bothering me vs. being panickin anakin in a corner afraid I will be beat, shunned, or ridiculed for speaking.

Repeat the steps I do when talking to a stranger, and take my time to say what I have to say because, it's okay to talk or whatever hehehhee
What's your checklist? strangeisbeauty@gmail.com